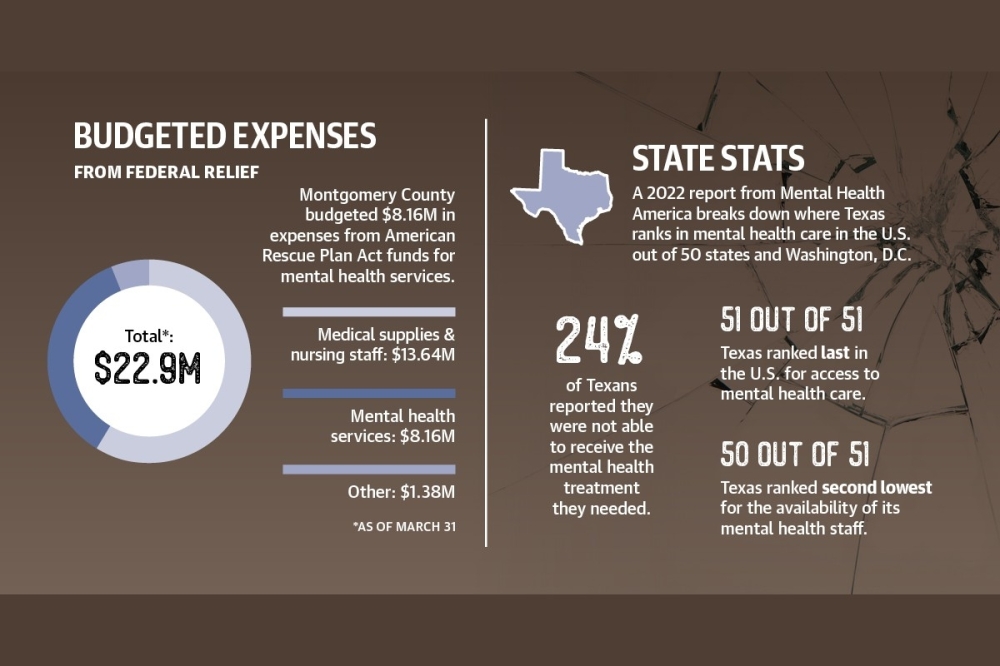 Conroe and Montgomery entities step up efforts to improve access to mental health services as data shows growing demand
Local entities in the Conroe and Montgomery area are stepping up efforts to improve access to mental health services in Montgomery County as the area sees an increasing number of calls for mental health services, but experts have said more aid was needed to deal with the crisis.
"I see the need for mental health services more than ever," said Larisa Loera, president of the Watershed Counseling Center, which is planning a grand opening Sept. 24 in Montgomery.
Loera said she hopes to provide counseling services closer to home for families, youth and adults, as existing mental health resources are concentrated near The Woodlands.
"There has been a lot of growth in Montgomery County, and with the pandemic, that has only intensified the need for mental health services," she said.
Montgomery County Precinct 1 Constable Philip Cash, who helps lead the county's mental health unit and crisis response team, told Montgomery County Commissioners Court on July 26 that the mental health unit received 4,783 calls from January to June this year, already exceeding the 4,765 calls received in the whole of 2021.
The county expanded the unit in August 2021 with federal funding from the American Rescue Plan Act.
According to the U.S. Treasury Department's Project and Expenditure Reports, Montgomery County has budgeted $8.16 million, more than one-third of its funds allocated to ARPA projects as of March 31, for mental health.
Statewide, a 2022 report from Mental Health America ranks Texas last out of 51 states and territories for access to mental health care. As such, local groups such as the Montgomery County Volunteer Behavioral Health and Suicide Prevention Task Force said they were trying to improve access. The task force was created by Precinct 1 Judge Wayne Mack in 2020, according to previous reports.
The task force begins a gap analysis in September to determine what services are needed in the county, said Brenda LaVar, task force member and chair of the National Alliance on Mental Illness Greater Houston board of directors.
"When [families] can't find help, it's a real problem," she said.
Rise in demand for mental health
According to Cash's report, calls for mental health services to the unit are expected to increase to 9,566 calls by the end of 2022, a 101% increase from 2021.
He said the most common category of calls from January to June were the various responses from the Crisis Response Team, which consist of check-ins with citizens who have recently experienced mental health issues as well as with those who have recently completed outpatient visits with Tri-County Behavioral Healthcare, a federally licensed health center. Cash noted that ARPA funds have allowed agents to increase their follow-up frequency.
Meanwhile, Evan Roberson – Tri-County's executive director – said Tri-County statistics showed that in June the center served 4,251 people in crisis; the center welcomed more children in the first six months of 2022 than in the previous four full years.
However, Roberson said lack of staff led to the closure of the center's crisis stabilization unit in November.
He said people admitted to the 16-bed unit are generally uninsured and need to be hospitalized.
Roberson told commissioners Aug. 3 that it would take nearly $2 million a year to staff the program and pay competitive salaries, but he said he didn't want to staff full-time positions using funds. ARPA temporary workers.
"[Having those beds] is one of the greatest needs in this county, for law enforcement," Precinct 3 Commissioner James Noack said Aug. 3. "Not having them is a disservice.
Barriers to Access
In addition to staffing issues, local organizations said long waiting lists, lack of providers and cost of services are barriers to getting mental health services in Montgomery County.
The area served by Tri-County in Montgomery, Walker and Liberty counties is designated as a shortage area of ​​high-need mental health health professionals, according to the US Health Resources and Service Administration.
Additionally, a 2022 report from Mental Health America shows there were 830 residents per mental health provider in the state, ranking Texas second in provider availability in the United States.
Sherry Burkhard, director of education for Mosaics of Mercy, a Montgomery County-based nonprofit that helps residents find mental health services, said providers often had a waiting list for new customers.
"Since [the peak of the pandemic]our call volume has stabilized, … but what we've seen is an increase in call complexity and difficulty connecting to providers," she said.
According to the NAMI, 43.4% of adults in Texas reported symptoms of anxiety or depression in February 2021, of which 26.4% – or 839,000 adults – were unable to get the counseling or therapy they needed. needed, with cost cited as a barrier for 45.3% of them. .
However, in addition to the cost of services received, the lack of funding to provide mental health services is a challenge in meeting needs, said Steve Morris, senior pastor of Texas Grand Chapel. The church is in the early stages of merging with Conroe's Refuge Counseling Center to provide broader mental health services.
"Funding has to come from somewhere," he said. "Local legislation will likely be able to help state-funded or government-funded organizations. We need the community to step up and support faith-based nonprofits.
State Sen. Brandon Creighton, R-Conroe, said in an August email that he expects the state to build on its mental health funding in the next legislative session. , which will begin in January. He said the state invested $100 million in 2019 to create the Texas Child Mental Health Care Consortium and $745 million to build mental health facilities.
"Year after year, the Texas Legislature has prioritized funding for mental health, and the 2023 session will be no different," he said in an email. "Legislators will work diligently to ensure that communities large and small have the mental health resources they need."
Local response
As the legislative session approaches, LaVar said the task force is working to complete its gap analysis in December with a recommendation of priority initiatives and longer-term needs. The analysis kicks off Sept. 20 with a meeting of about 100 stakeholders, LaVar said, and will also include focus groups throughout the fall.
"What's going to have the most impact right now?" says LaVar. "We will produce for this county what we need now and what we need to consider in the future."
Additionally, Burkhard said Mosaics of Mercy is working alongside Tri-County to build a public database of available mental health resources to help with the difficulty of finding a provider.
With growing needs and insufficient access, Shannon Brown, clinical director and co-owner of the Refuge Counseling Center, said the counseling center and the Great Texas Chapel are working to create a campus in Conroe known as The Refuge with a cafe, church and counseling center to meet the spiritual, physical and social needs of the community. The two entities are looking for land and raising funds.
"That's sort of why this whole team is coming together to make sure we're doing what we think is our responsibility, but also a need for the community that we remove as many barriers as possible," he said. Brown said. "There was a trend of need long before COVID[-19] hit. I think people re-emerging into society put more of a crisis level notification there.
Local resources
1. Mosaics of Mercy
33114 Forest St W., Magnolia
346-703-0051
www.mosaicsofmercy.com
2. NAMI Greater Houston
713-970-4483
www.namigreaterhouston.org
3. Catchment Advice Center
14855 Liberty Street, Montgomery
936-297-5252
www.watershedcounselingcenter.com
4. Tri-County Behavioral Health Care
800-659-6994 (crisis hotline)
800-550-8408
5. Texas Mental Health Crisis Line
Call or text 988.
Listen to The Houston Breakdown, a podcast by Community Impact Journalto learn more about this story.
">