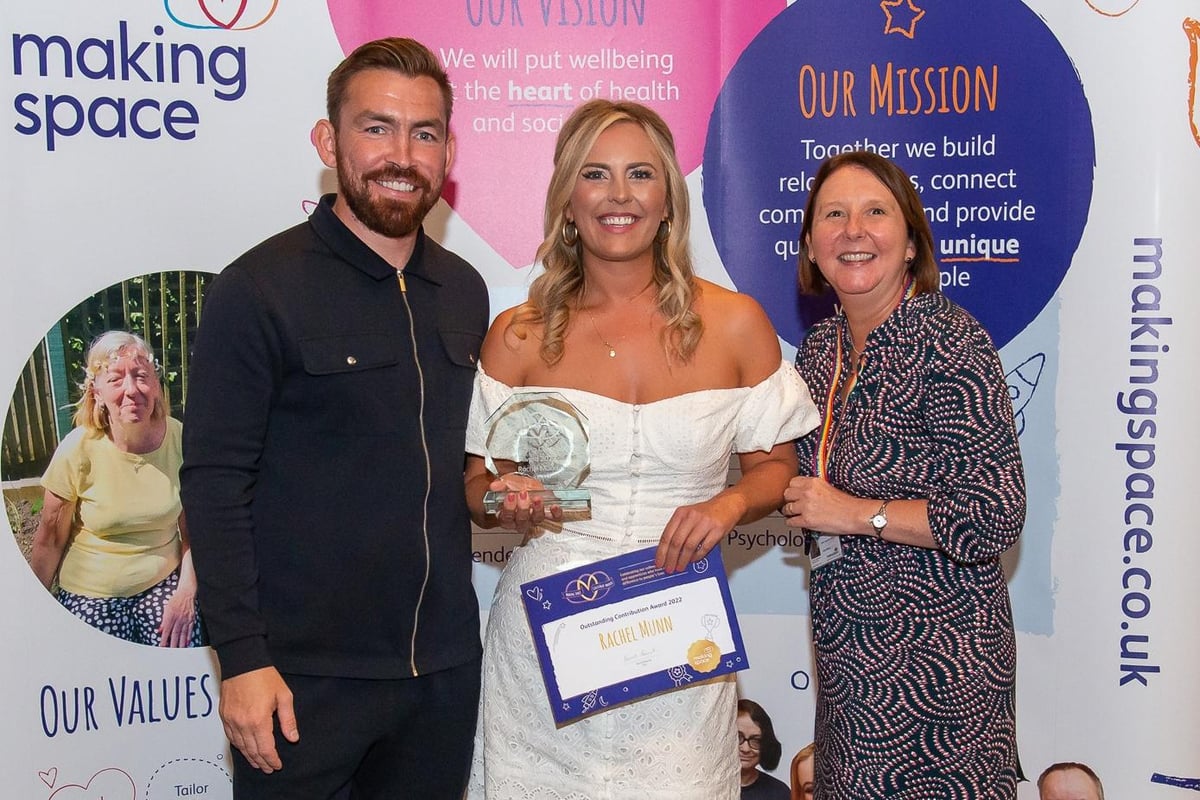 Charity worker wins award for contribution to Wigan mental health services
Rachel Munn has been credited with creating a "fantastic work environment" and her "contagious" positivity.
She is the head of Psychological Wellbeing Services in Wigan, which provides computer-based cognitive behavioral therapy for people suffering from anxiety, depression or stress.
It is run by Making Space, a national adult health and care charity which employs over 1,200 people across the UK.
Winner Rachel Munn, center, with host Andy Grant and Rachel Peacock, CEO of Making Space
Rachel received the Outstanding Contribution Award at the inaugural Making Space Colleague Awards in recognition of her hard work.
Read more
Read more
Steps taken by hospital bosses after tragic death of Wigan's mother sent back to hospital…
Last year, a 91% recovery rate was seen in those who had two or more sessions, demonstrating the service provided by Rachel and the constant improvements she brings.
Rachel was nominated for the award by members of her team, who praised her for her "passion, enthusiasm and constant growth potential", "dedication and loyalty in everything she does", " always putting ourselves first" and "always going above and beyond…..with ease, confidence and enthusiasm."
She was presented with a certificate and trophy at an awards ceremony at the Manchester Mercure Hotel by Andy Grant, motivational speaker, Iraq and Afghanistan veteran and world's fastest leg amputee on 10km.
Rachel said: "Winning the Outstanding Contribution Award means the world to me.
"I'm privileged to be able to do the work that I do, but it was so nice to be recognized for it. I've worked for Making Space for a long time and was honored to be chosen among all the amazing nominations.
"I have to say that I couldn't do what I do without my incredible team. We work together and support each other and we all share the same values ​​and beliefs.
Elaine Johnstone, Administrator of Making Space, one of the judges for the award, said: "Rachel's value of professional standards, compassion and continuous improvement is evident in everything she does.
"Her positivity is contagious and inspiring and influences those around her to excel, while strategically organizing departments to improve results and sustaining many successful contracts.
"She has created a fantastic work environment where everyone can thrive and achieve the best results for themselves and the people they support."